ITINERARY: SAIGON – CU CHI TUNNELS (HALF DAY)
08:00 AM/ 12:30 PM: Departing from the Tourism Corporation VieTourist office at 95, 97, and 99 Tran Hung Dao Street, Cau Ong Lanh Ward, District 1, we will arrive at the Lacqueware Workshop, where you may learn about the elegant and vibrant traditional Vietnamese art paintings..
We may stop along the way for refreshments and restroom break.
09:30 AM/15:00 PM: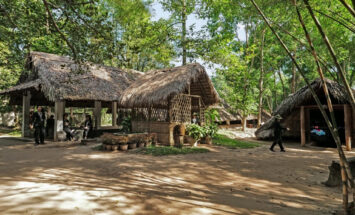 It takes us an hour to an hour and a half to reach Ben Dinh – a sophisticaed underground networks of Cu Chi. 
A hostile, friendly "o du kích" who dresses as a female guerilla fighter will guide you through the meeting hut and show us a brief "propaganda"
video which introduces the origins of the Vietnam War and how the tunnels were utilized to fight against G.Is in the Vietnam War. 
After exploring the area, we will next go with our tour guide to the Ben Dinh tunnels. The tour guide will transport you to the old days in which we may roleplay as "underground residents" and explore the undergrounds way of life, how people communicated and made it through such challenging living conditions, as well as discussing about the tunnel system. 
By crawling through the tunnels, you will also be able to see exactly how people formerly traveled beneath during the Vietnam War. On the journey,  we may stop at a "kitchen hut" to rest, taste the boiled tapioca, which was the major source of nutrition at the time, and hear fascinating true tales about those bygone days of warfare. 
12:00 PM/16:30 PM: The coach/ car will take us back to Ho Chi Minh City's center.
TOUR ENDS AT THE VIETOURIST OFFICE & VIETOURIST WOULD BE DELIGHTED TO WELCOME YOU ON THE NEXT TRIPS